Statement of Purpose

The mission of Lutheran Church of the Cross is to gather souls for Christ with a Christ-centered, Bible-based, spiritually-motivated congregation that utilizes the time, talents, and treasures of its members to reach out to the community to offer caring fellowship to all individuals.

Rev. Kenneth Redmann, Pastor
Rev. Dr. James Cotter, Winter Pastor

We invite you to share in God's blessings and fellowship and in the many activities of our parish whether you are a winter resident, full-time resident, or just visiting for a short period.

We are a member of The Lutheran Church - Missouri Synod LCMS.

Located in Southwest Florida just off Interstate I75 in the Port Charlotte / Punta Gorda - Deep Creek area (map).

Wed., Mar. 4 - 7pm
Lenten 3 - Sermon Title: "My Name is Pelicano"
Wed., Mar. 11 - 7pm
Lenten 4 - Sermon Title: "Running Empty"
Wed., Mar. 18 - 7pm
Lenten 5 - Sermon Title: "Love Protects All Things"
Wed., Mar. 25 - 7pm
Lenten 6 - Sermon Title: "Love Endures All Things"
Thurs., Apr. 2 - 7pm
Maundy Thursday - Re-enactment of the Lord's Supper
Fri., Apr. 3 - 7pm
Good Friday - Service of Darkness
Sun., Mar. 29 - 7:45am & 10:15am
Palm Sunday with Holy Communion Service
Sun., Apr. 5
Easter Services
Sun., Apr. 5 - 7am
Sunrise Service at The Cross Monument*
Sun., Apr. 5 - 8:20am
Easter Breakfast (

freewill offering

) at Fellowship Center
Sun., Apr. 5 - 10:15am
Easter Service*
*Both services to include Holy Communion

TEXTBOOK CHALLENGE
Recently a group of local citizens asked the Charlotte County School District to stop using two world history textbooks that, among other things, teach our children that Christians, Jews and Muslims all worship the same god. While some may believe this to be true, we know this is demonstrably false. While it is reasonable to teach school children how different religions have impacted the society in which we live, it is not appropriate to provide false, misleading and biased information about any religion to accomplish this.

At last Sunday's voters meeting the congregation approved a motion that LCC officially support the request to stop using these textbooks. This official declaration of support will authorize Pastor Redmann and officers of the church to speak publically on behalf of LCC in support of this request.
Your support can be very important in stopping the use of these textbooks. The Charlotte County School Board will be holding a special meeting to rule on the use of these books next Tuesday, March 3rd at 5:30 P.M. at the Charlotte Technical Center Auditorium, 18150 Murdock Circle, Port Charlotte, FL 33948. The auditorium is in the three story building on the Technical Center campus which can be entered from either from Murdock Circle, Education Way or Cochran Blvd. Your attendance at this meeting will indicate to the school board that support for halting the use of these textbooks is widespread and sincere.

Our school board has been given the responsibility of teaching children about religion's role in history, not indoctrinating them in any particular religion of their or anybody else's choice. Teaching them that the god of Mohammed is the same as the Triune God of Christianity or the god of Judaism as described in the Torah is intellectually dishonest and offensive, and demonstrates great disrespect to both Christians and Jews.


COMING SOON — 2015 Vacation Bible School Week!

Group sizes are limited so do not delay in getting your children signed up for this event! We will be hosting "Camp Discovery" June 15th - 19th from 9:00am - noon … and the whole program is FREE!
The children will then present the VBS Service of Word & Song on Sunday, June 21 during our 10:15am service…and an ice cream party will follow the service!

To sign up you may download the registration form HERE, or you may call upon the church office (941) 627-6060. Office hours are Monday-Friday 8:30am-1:30pm. Please contact us with any questions you may have about this event.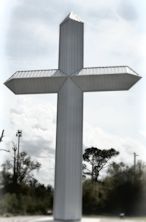 CROSS MONUMENT - PHOTOS CLICK HERE



Connect with Lutheran Church of the Cross on Facebook, "Like" us today!
Visit our Facebook page ... join the discussion, stay in touch and see what we are doing.
Be one of the first to get the latest news and photos!



TO JOIN, PLEASE GO TO OUR FACEBOOK PAGE AND CLICK "LIKE"

CHURCH OFFICE HOURS
Mon - Fri 8:30am -1:30pm